Studio ProjX is owned and operated by professional broadcast engineers who have experienced the nickel and dime costs of recording at other studios. This is why the packages listed below are broken into day rates, rather than per hour costs.
We also know the world is not a perfect place, so the staff at Studio ProjX will work with you in every way to ensure you complete your project – even if it means at times staying longer at no cost to you. We enjoy our work.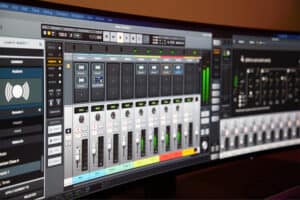 Half-Day Rate:

$1499

Up to 5 hours in the studio – This is the perfect package for businesses needing to create an executive communication piece, a marketing promo, audio narration, or short training video.
Full-Day Rate:

$1999

Up to 10 hours in the studio – For those who have a more involved project or want to be able to complete their project without the time pressure. This package includes studio recording time, a 2 hour editing session, and catered lunch.
On Site Production:

Custom Quotes Available

With complete on-site production capabilities, let Studio ProjX be your outsourced video production company. Our flexible fly-away setups are perfect to meet even the most challenging client needs.